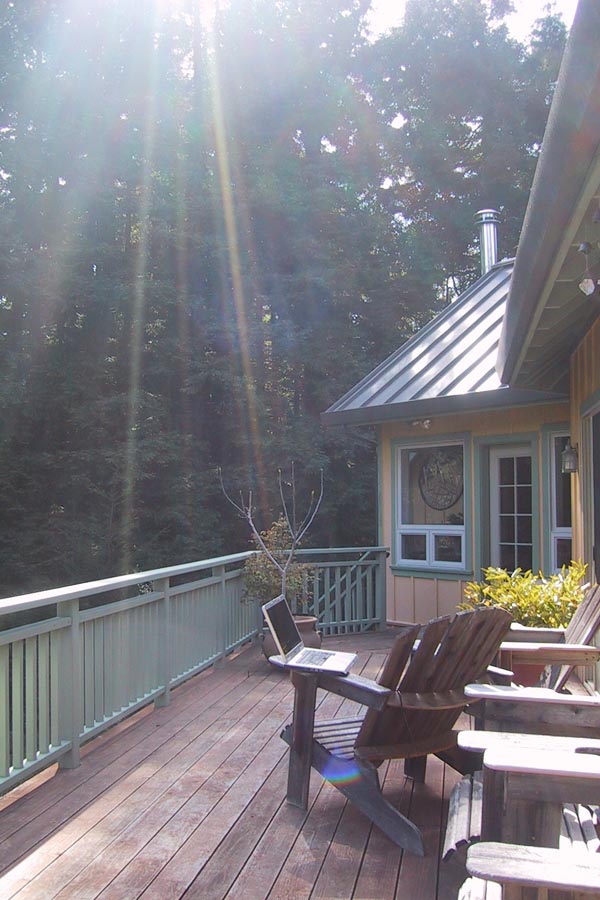 Working my way through a creative block was not really how I wanted to spend the first warm Saturday afternoon in April, but the work is what pays the bills these days. It is over 85F on my back deck, and I am grateful for the laptop computer that facilitates my working outside. With three menus pending, I am reaching high and low in my consciousness for delicious seasonal appetizers that don't cost the customer their first born child and several body parts. Being between seasons here in Northern California does not help. I walked the aisles of the produce department for some inspiration and just can't seem to find my way. All of the winter vegetables look tired and spent, save for the mountains of kale and greens in the organic section. It is too early for Mediterranean favorites like fava beans and baby artichokes, and the promising asparagus spears still seem to be hailing from points south of the border. Out here in the Adirondack chair, I surround myself with stacks of books and my visual journal, a large scrapbook full of collages formed from random images of food that I have torn or cut from the myriad of lifestyle magazines that litter the coffee table.
I have been trying to prepare these menus all week, and nothing seems to sound right. The items I have come up with either seem too contrived and fussy, or they seem mundane and repetitive. I recognize the symptoms of spring fever; that fuzzy, disjointed condition in my brain that tells me that a walk along the ocean bluffs is a better idea than preparing menus for clients. One of the parties will be in mid-May, the second is slated for August. The last menu is simply the two to three items I must serve this Thursday at a Chamber of Commerce showcase, intended to pique the interest of the wedding planners and winery hospitality managers that will be walking the aisles, selecting their favorite caterers for the season. For this event, I am torn between the "wow" factor of something precious and visually arresting, and the "mmmm" factor of comfort food taken to a new level. Last year, I served crab cakes and sausage roll puffs from the freezer, but this year, I have no such reserves. Complicating the situation even more is the fact that I have an olive oil demo scheduled for most of the same day as the showcase, so whatever I choose to prepare will have to be completed the day before.
My eyes keep coming back to a particular image, a platter of baby carrots with part of their tops still on, roasted in olive oil and middle-eastern spices. In pondering the impact of this image, I remember an episode of Anthony Bourdain's "No Reservations" where he visited the Catalonian countryside. Thumbing through one of the cookbooks in the stack, I am rewarded by the recipe for spring onions, charred slowly on an open fire, and served with a robust and complex romesco sauce. The mental image of Bourdain eagerly slurping down these regional spring delights and licking the sauce from his fingers resonates at a deep level. I can picture the platter, my bright turquoise Mexican bubble glass, heaped with vibrant green spring onions, beautifully caramelized and blackened, and a large white bowl of the terra-cotta colored sauce for dipping. On another of the platter, I see a huge mound of the roasted baby carrots, again, perfectly browned and glistening, sweet and spicy at the same time, resting on a large pile of their raw green tops. A tentative theme of southern Mediterranean crudités begins to coalesce in my mind's eye, and I see an edible tablescape of rustic breads and cheeses, tall green glasses filled with homemade grissini with flake salt and large platters of caramelized seasonal vegetables with colorful and flavorful dipping sauces. I can almost smell the fragrant spices and the unmistakable scent of slow cooked onions and peppers that would accompany such a display of pastoral abundance.
As I write, the tension begins to ease and my mind slips back into that receptive place where ideas flow freely. The block is broken, and an entire meal begins to emerge around this central theme. Not only have I developed the necessary appetizer menus, but I have expanded them to an entire farm dinner concept. I begin to mark recipes with paper clips, to be copied when I return to the office. Sometimes the slightest change of scenery or environment is all it takes to jump start the creative process. I am extremely grateful for my back deck and its exquisite views of the garden and the redwoods. The little dog stirs at my feet as the sun begins to brush to tops of the tallest trees and cast a shadow that will creep across to where I sit. Before long, it will be too cool to remain here, as it is still only April, but the promise of the warm sunshine transported me beyond the limitations of my imagination, at least for an afternoon.
Post by Julia Conway on April 4th, 2009