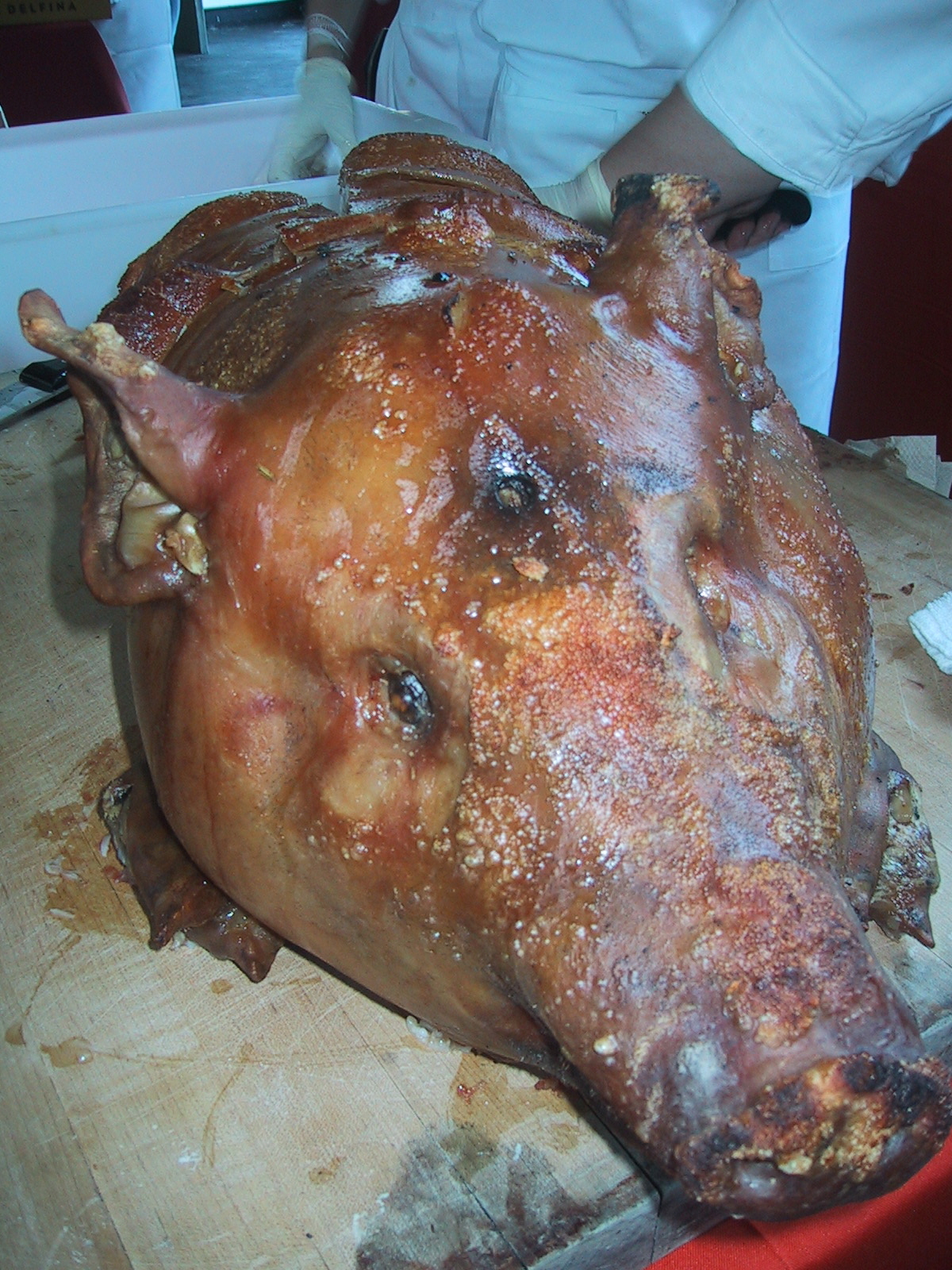 I had the pleasure of attending Slow Food San Francisco's Golden Glass 2009 at Fort Mason this weekend. As one of their chosen artisan food producers, we were invited to sample our Stella Cadente olive oils for the enjoyment of the media, trade and public patrons. One of the collateral benefits of participating in this event was the opportunity to taste some of the wonderful artisan products from the Bay area's diverse Italian food and wine community. Conceived initially as a venue for Italian wine importers and producers to introduce their products to the northern California market, this event has grown into a showcase of good, clean and fair food and wine, and has become an informal get-together for a family of restaurateurs, farmers, artisan producers involved in the Slow Food movement.
Perennial favorite restaurant A16, named for the primary highway into Rome, arrived first, with their golden roasted porchetta, the front halves of young pigs, boned out and stuffed with a mixture of innards and fresh rosemary, skin and heads intact. One of my cherished marketplace treats when I am in the Italian countryside are the rustic bread rolls stuffed with chunks of this juicy roast pork, a good mixture of tender meat, chunks of fat and crispy skin. These sandwiches need no condiments, and the juices soak into the bread and meld the flavors into a delicious whole. Today, the mixture was served on thin slices of crusty bread, as tasting portions were the norm.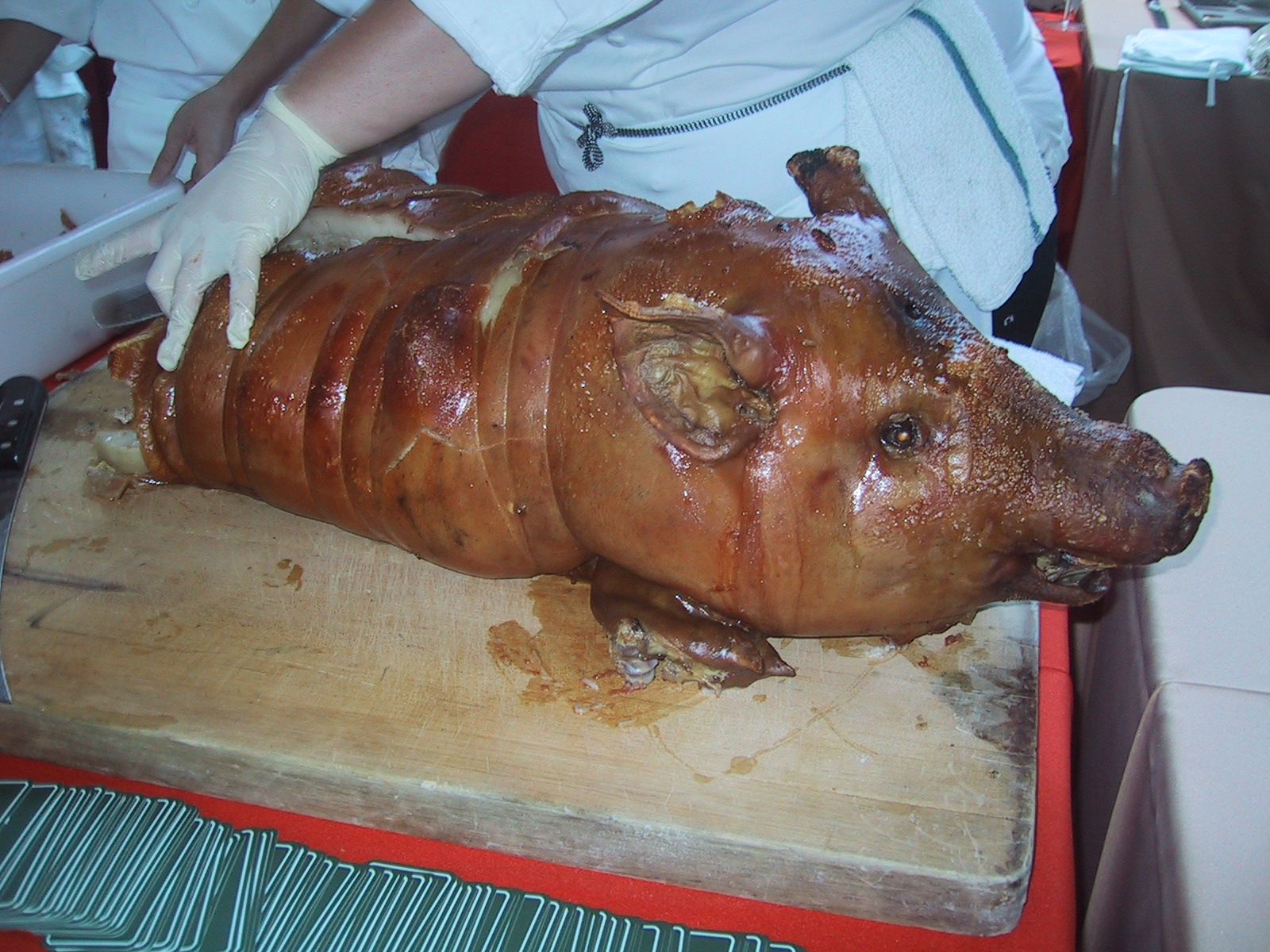 Perbacco, one of several restaurants specializing in fabricating their own salumi, was presenting a Tuscan fermented sausage known as finocchiona. This salami-style concoction of pork shoulder and fatback mixed with fennel seeds is stuffed loosely into a 4" natural casing and hung until dried and slightly chewy. Traditionally sliced paper thin, allowing the large chunks of fat to virtually melt in your mouth, accentuating the velvety texture of the meat. Rather than dominating, the taste of the fennel seed underscores the savory flavor of the free range pork. I returned to their table several times, unwilling to let go of the incredible combination of taste and texture reminiscent of a visit to Maceleria Falorni on the square in Greve in Chianti, where I first tasted this sausage made in the ancient manner. Commercial American versions are much drier and saltier and do not begin to convey the character of the traditional version.
I was a bit disappointed with the offerings from Fra'Mani, Paul Bertolli's artisan salumeria in Oakland. I find their sausages better and more authentic than most commercial products, but still leaning closer to the north American flavor profiles and preferences. Their sausages tend to be leaner and less unctuous, with a nod to our cultural obsession with reducing fat content. Their mortadella was tender and smooth, but still did not have the incredible texture of the Bolognese version. True mortadella should also melt on your tongue, almost a mousse-like consistency rather than the grainier texture of American bologna. The surprising addition to their offerings was a turkey roulade, which, though a version is produced in Italy, is not usually sold as salumi. I would choose this over generic deli turkey rolls, but it lacked the singular piquancy of properly cured pork sausages.
The standout pork offering of the day was, surprisingly, from Charles Phan's Heaven's Dog. Pioneering Asian fusion in San Francisco with the Slanted Door, Charles' Vietnamese heritage merged with southern European influences has produced dishes that truly reflect the multi-cultural nature of San Francisco itself. The table was filled with a row of Iwatani butane burners topped with towering bamboo steamer baskets. Emerging from the baskets were warm steamed clamshell buns stuffed with a thick slice of long-braised pork belly and slivered scallions. Perfect striations of meat and fat melted together in your mouth, the juices redolent of ginger, sesame and soy. The spongy tenderness of the rolls absorbed the flavors and also melted into the whole. The taste was pure Asia, but the texture was reminiscent of Lardo di Colonnata, the cured fatback of Tuscany's northwestern coastal mountains. Having prepared pork belly without such spectacular results, I suspect the pork was brine cured prior to braising, transforming the cut to an almost butter-like consistency. The components of the flavor balanced salty with sweet, with the slight bite from the scallions as counterpoint, leaving me wanting another.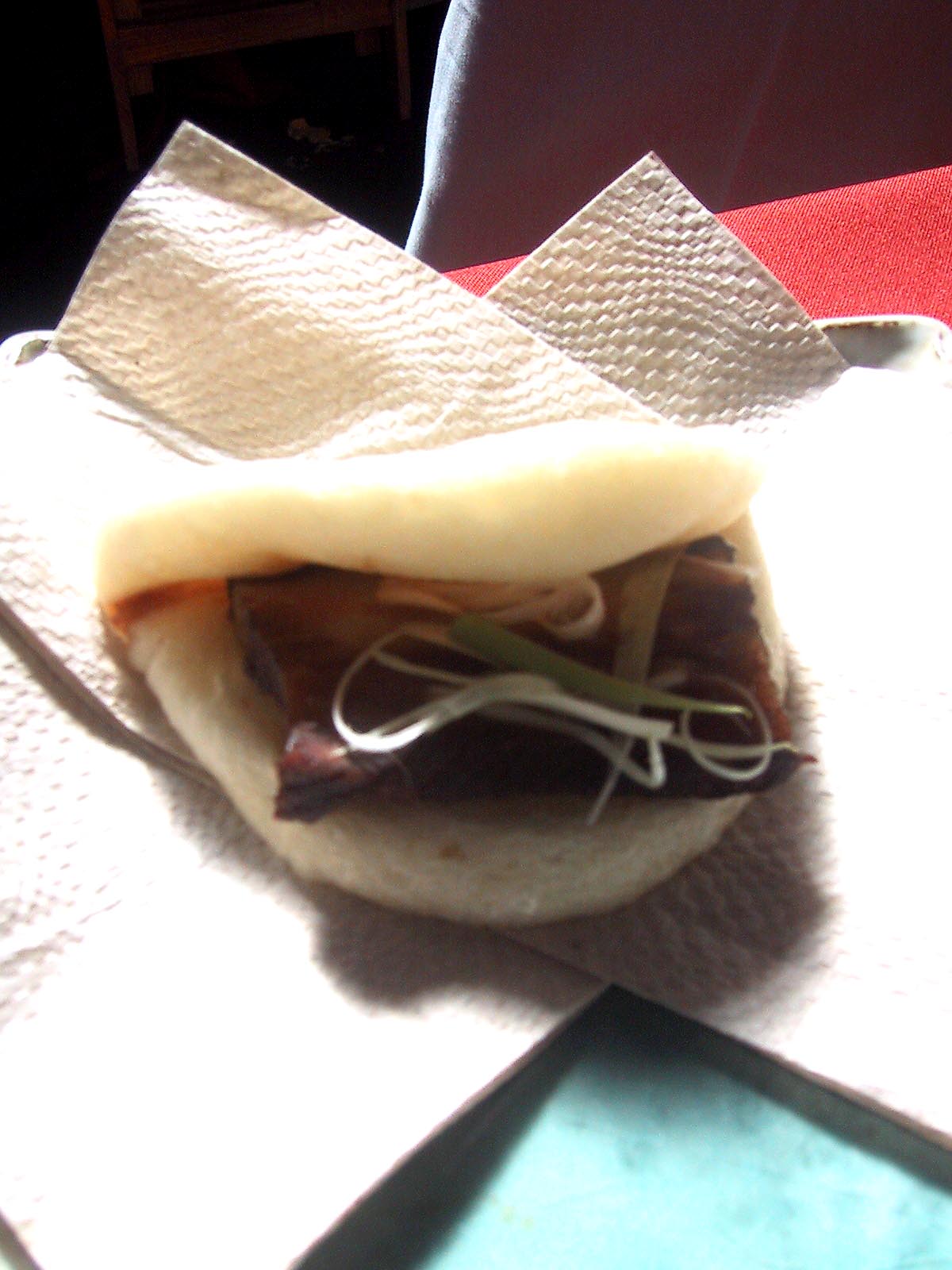 I was fortunate enough to share a row of tables with another popular restaurant, Emporio Rulli. The creation of pastry chef Gary Rulli, the casual shops feature the kind of sweets and cookies commonly found in homes in Italy's countryside. During Slow Food Nation's seminars last summer, I gorged on Amaretti, Brutti ma Buoni (Ugly, But Good) and small knuckles of pasta frolla stuffed with jams or poppy seed paste seasoned with fennel and bitter orange peel and dusted with powdered sugar. These cookies were accompanied by rich, dark espresso, making this table popular with the Italian wine merchants in attendance. A casual conviviality ensued, and the conversations merged English and Italian in a musical patois. On the other side of the table, his executive chef was busy preparing risotto. I was familiar with his expertise in this area, again from the hospitality suite at Slow Food Nation. Last summer, his plates of perfectly cooked nettle risotto sustained me between marathon sessions of pouring wine in the Taste Pavilion for the tens of thousands of attendees. Today he was preparing a Venetian style version complete with tiny rings of fresh spring onion and a paste of black summer truffles. Several of the Italian patrons slathered my L'Autunno Tuscan-style olive oil over plates of the steaming rice, adding a hint of bitterness to the creamy yet chewy delight. I was disappointed when, just as I was poised to photograph him lavishing the mixture with a fistful of freshly grated Parmigiano Reggiano, the battery on the camera died. As a result, I am forced to convey his aura of absolute confidence and mastery via the written word. Whereas many prepare this dish with careful and concise measurement of all the relevant ingredients, he worked from instinct, adding just the correct proportion of hot broth to a pan full of parcooked Vialone Nano rice, stirring vigorously with a wooden spoon, and tasting for both texture and seasoning as the cooking progressed. At precisely the right moment, he added large dollops of sweet butter, letting them melt into to rice. To finish the dish, he added the onions, a lashing of salt, and a deep swirl of the black truffle paste. The risotto was then ladled into a large chafing dish, topped with the cheese, and served up to the awaiting patrons, lined up three deep in front of the table. With every batch, he scraped the edges and bottom of the pot, dishing up the fragrant and creamy goodness on a paper plate and passing it over to me with a wink and a smile. The trick is to eat from the edges to the center, consuming the risotto while almost too hot to swallow, but before it cools and thickens. The Piemontese prefer their risotto firm and chewy, while the Venetian style dictates "al 'onda" or "like a wave" as the correct texture. Both regions disdain the starchy yet mushy mouth feel of overcooked or reheated risotto, preferring to form any leftovers into cakes or balls, and breading and frying them for a crispy but creamy snack. This still remains one of my miracle foods of Italy, elevating the simplicity of rice, broth and seasoning to a gourmand's delight that yet remains the ultimate comfort food.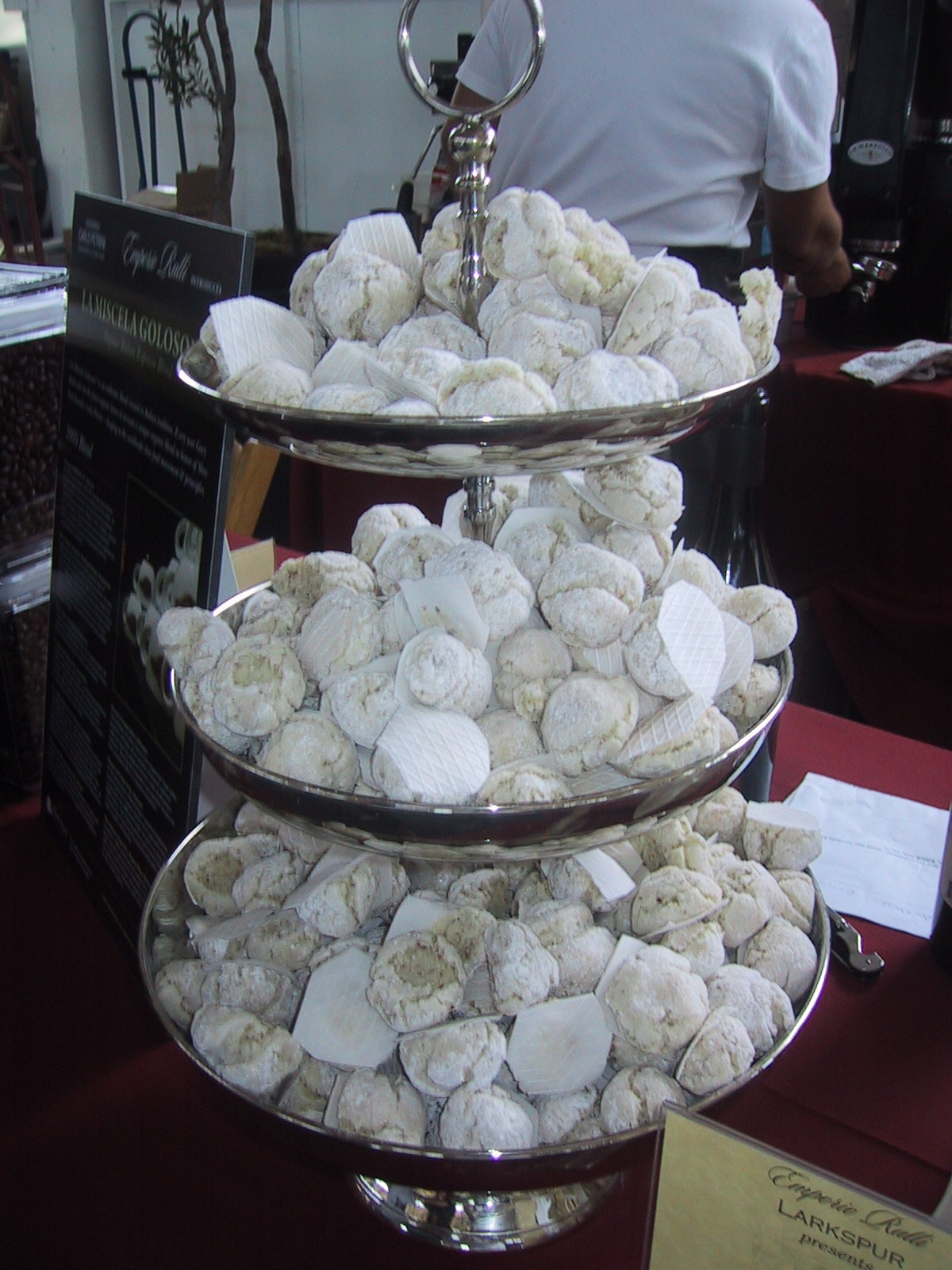 My only regret is that I was unable to visit my favorite salumeria at the Ferry Plaza market, Boccalone, the retail outlet for Chris Cosentino of Incanto fame. Summer traffic in San Francisco precluded a quick jaunt prior to setting up for event. I will be reduced to prevailing on city friends to procure the tasty specialties, or to order online. Short of a trip to Italy, financially impossible at this time, it is one of the few ways I can reprise my cooking school experience there. We are incredibly fortunate here in northern California to have such a wonderful collection of artisans of preserved pork and other traditional Italian treats. Ciao!
Post by Julia Conway on June 22nd, 2009