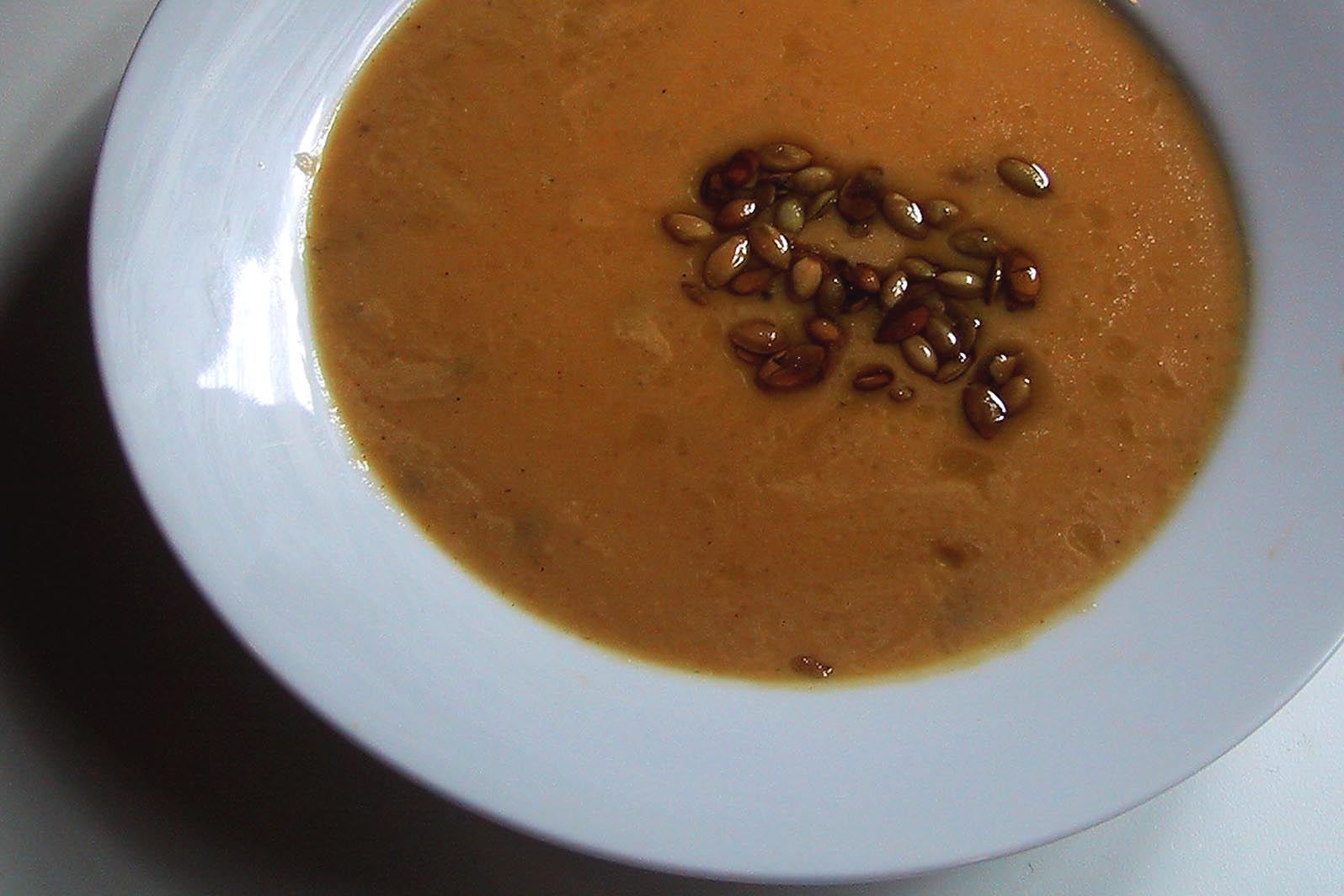 One of the best quick dishes this time of year is to make a soup from a roasted winter squash. The first of the new crop of squash are coming in to my local grocery store from Comanche Creek Farm, and they are also starting to appear at the last farmers markets of the season. To me, this is the ultimate fall vegetable, and is such an efficient package of nutrients to boot. I like my soup to have a savory and balanced flavor, not tasting sweet, like pumpkin pie, as so many commercial versions do.
On a chilly afternoon, I will fire up the oven to roast a squash for soup. Using the large santoku knife, I split the squash vertically, and scoop out the seeds. I roast the squash cut side down on a sheet pan lined with parchment until it is soft and deeply caramelized on the bottom. While the squash cools, I sauté half of a sweet onion in olive oil until softened and lightly browned, then add two teaspoons of curry powder. My favorite is from Juliet Mae Spices in San Francisco (
www.julietmae.com
), but any full flavored variety will do. Continue to sauté the mixture until the curry powder is toasted and fragrant, then deglaze with a splash of brandy and scoop the cooled squash out of the skin and into the pot with the onions and curry.
Add two to three cups of water, or just enough to cover the squash, and simmer until the onion is very soft. Puree the mixture with a stick blender until smooth, and then add one to two cups whole milk, stirring well to combine. Simmer until thickened and reduced, and taste for seasoning. I tend to like to add salt and a squirt of Sriracha hot sauce to give the soup a little zip. If the soup is still too sweet, add a dash of soy sauce to offset. The sweetness will vary with the individual squash used.
Before serving, I like to roast a generous handful of pumpkin seeds in olive oil over low heat, using a heavy bottom sauté pan. Stir to prevent burning and roast until seeds and oil are a rich golden brown. You can also do this using pumpkin seed oil if you have it handy, but olive oil works just fine. This garnish is fragrant, and provides a satisfying crunch in contrast to the velvety soup.
Serve the soup in wide rimmed bowls, and drizzle the oil and pumpkin seed mixture over the top. Season again with a little freshly ground pepper and enjoy!
Ingredients
1 medium to large winter squash
½ medium sweet onion, chopped
Olive oil
2 teaspoons curry powder
¼ cup brandy or wine
2-3 cups water
1-2 cups whole milk
Sriracha hot sauce (or Tabasco)
Salt and pepper to taste
½ cup raw pumpkin seeds
½ cup olive oil
Post by Julia Conway on October 23rd, 2009