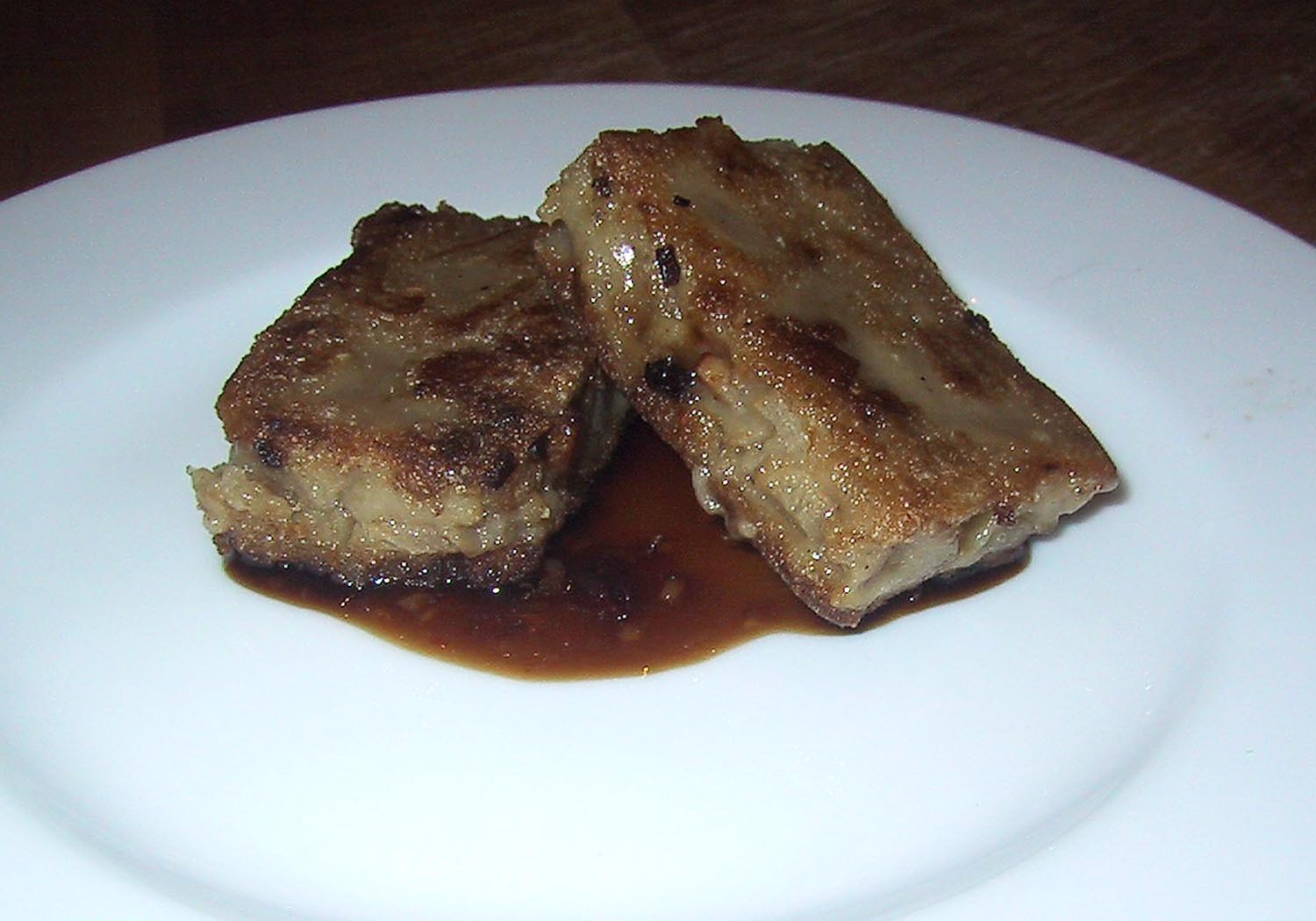 Who would have thought that one of my favorite dim sum, turnip cakes, was not made of turnips as we know them at all, but out of daikon radish? I received some beautiful fresh picked turnips in my CSA box last April, and was searching for recipes using turnips that my husband would enjoy. While a somewhat adventuresome eater, he is not a fan of the likes of parsnips, turnips, celery root and other "underground" vegetables. Remembering that we both enjoy turnip cakes, I turned to Google, and discovered this startling fact. That week, the turnips ended up in a mixed vegetable soup, and the recipe was filed away for use in my vegetable cooking class the following month.
The other day, while reading other food blogs, I began to crave dim sum. We live on the north coast of California, in a very small town, and our Chinese food is generally not prepared by Chinese cooks. It is approximately two hours one way to the closest dim sum restaurant, so prospects looked dim on a Thursday night. Then I remembered the recipe for turnip cakes. The ingredients were fairly simple to assemble, and the daikon was readily available at the local market. I substituted bacon for Chinese ham, and fish sauce for dried shrimp, as my husband is deathly allergic to shellfish in general and shrimp in particular. I also had no Shaoshing rice wine, but blended a little brandy with mirin and a touch of Chinese black vinegar for an acceptable replacement.
The recipe looks long and involved, but in reality, most of the time required is for cooking and cooling the cake itself. I started out around four, and we were eating a little after six. As with all stir fry dishes, it is important to prepare and assemble all of the ingredients in advance of the cooking, and place them conveniently close to the stove. Otherwise, you will be flying around the kitchen with one eye on the sizzling wok so as to grab the crucial missing item while not burning the contents of the pan.
For a dipping sauce, I combined equal parts sweet chili sauce and soy sauce. You can either choose to dip the individual bites, or drizzle the sauce around the cakes, as I did. The finished cakes were a little darker than ones I have enjoyed in dim sum restaurants, but I chalk that up to the fact that there was sugar in the mirin that built up on the wok while frying the mushrooms that was absorbed by the turnip as it cooked, darkening the strips to a medium brown instead of a creamy beige. However, the flavor was fabulous, and far more authentic than anything I could get locally. The also reheat beautifully in the microwave, and the texture remains good, even the next day.
Turnip Cakes (Law Bok Gow)
1 ½ cups white rice flour
4 dried shiitake mushrooms
1 thick slice bacon or pancetta
1 oz dried shrimp (or substitute 1 tsp fish sauce)
1 Chinese white turnip (what we know as daikon)
Peanut or vegetable oil
1 tablespoon Shaoshing wine
1 teaspoon dark soy sauce
1 teaspoon salt
In a large bowl, combine the rice flour and 1 ½ cups water and mix well until combined and smooth, set aside. Soak mushrooms in hot water until softened. In a separate bowl, repeat with the dried shrimp (if using). Blanch bacon in boiling water until softened. Remove and pat dry. Chop finely and set aside. Drain and chop mushrooms and shrimp, set aside. Peel turnip and slice into ½" slices. Fan slices and slice into ½" strips. Combine wine, soy sauce and fish sauce (if using) in a small bowl.
Heat oil in wok over high heat. Stir fry mushrooms (and shrimp, if using) until fragrant. Add wine mixture and stir fry until mushrooms are well coated. Add the bacon, cook for another 1-2 minutes, remove from heat and set aside. In the same wok, add more oil, and stir fry the turnip strips for 2-3 minutes. Pour in 2 cups water, place a lid on the wok, and steam until turnip is just cooked through and not mushy. Pour the hot turnip mixture into the bowl with the rice flour mixture and stir to combine thoroughly. Add the bacon, shrimp, mushrooms and salt, stirring until everything is evenly distributed.
Coat a round cake pan with pan spray or oil, and pour mixture in, tapping on the counter to remove bubbles and even up top surface. Steam in your wok, adding boiling water as necessary, for 30 minutes or until cake springs back when touched in the center and is firm throughout. Cool on a rack for about an hour.
Loosen the cake from the pan and invert onto a cutting board. Slice into 1" by 3" rectangles. Heat a film of oil in a non-stick skillet, and fry cakes, in batches, until golden brown on each side. Serve hot with your choice of oyster sauce, soy sauce or chili sauce.
Post by Julia Conway on October 30th, 2009